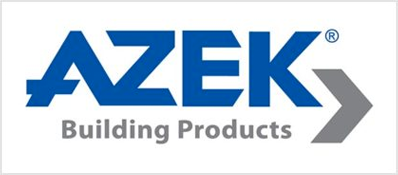 Azek is a pioneer in the building industry, engineering the best capped polymer and PVC performance materials available. Their commitment to technology and materials science is at the heart of their brand. With a unique attention to beauty and detail, Aezk products always add curb appeal. That's why the best dressed homes wear Azek.
Made of cellular PVC that resists the tests of time and weather, AZEK® Trim is the best high-performance trim product on the market. Choose from our inspired collection of trim products, many available in two finishes, to add elegant details in a variety of applications.
AZEK TRIM IS BEAUTIFUL.
While AZEK Trim readily accepts paints and stains, it comes in a crisp, semi-matte white finish. Its profile is white throughout, and it's protected with UV inhibitors, making it resistant to fading or yellowing over time. And, with sealed edges on all four sides, AZEK Trim is easier to clean even if it does get dirty.
AZEK TRIM IS WORKABLE.
Craft a work of art with materials that are easily milled, shaped, and moulded using standard woodworking tools. AZEK Trim can be routed and cut without chip outs, fastened close to edges without splits, and even heat-formed for curved applications. They're also easy to install—saving you time and labor costs.
AZEK TRIM IS DURABLE.
With AZEK Trim, you can feel confident your work will not rot, cup, split, twist or warp. It's moisture and insect resistant, doesn't require paint for protection, and suitable for ground and masonry contact. That promise is backed by a 25-year limited warranty. For more, visit www.AZEK.com/warranty.
AZEK TRIM IS UNIFORM.
With consistent density, color, and square edges, all AZEK Trim products provide a uniform aesthetic. Boards offer tight board tolerances and precise, sealed edges on all four sides (S4S). And, since every inch of the product is usable, there's no waste.
Visit Chittenango Lumber Company today, to find out how we can help provide you with the best products and services for your next project.